A Bunion Is Impacting My Daily Life – What Can I Do?
When bones move out of their proper place in your foot, it can cause a painful bump to appear that can greatly impact your day-to-day. There are many different reasons for developing a bunion, like wearing improperly fitting shoes or a product of genetics. Despite the various causes of bunions, there is one thing you can do to alleviate your pain and get back to your active lifestyle. Lapiplasty is a revolutionary procedure that outperforms ineffective traditional bunion treatments.
At FASI, our specialists use only the industry's leading technology, therapies, and up-to-date clinical research to provide our patients with above standard care. If you are suffering from a painful bunion that is impacting your daily life and mobility, our experts can help you determine if a lapiplasty procedure is right for you. Before seeking therapy, it is important to understand how this innovative procedure targets the source of your condition and alleviates your pain.
What Is Lapiplasty?
Lapiplasty is a revolutionary technology that addresses the shortcomings of traditional osteotomies and traditional Lapidus approaches. Often, these conventional methods simply shave off the bunion – a serious misconception. Bunions are typically caused by an unstable joint in need of correction. With Lapiplasty, you can correct the condition right the first time by addressing the root source of the problem. This technology provides 3D imaging that can help our practitioners narrow down the source of the issue and help determine a patient's susceptibility to bunion reoccurrence. In fact, up to 70% of patients suffering from bunions have them reoccur.
Lapiplasty offers patients a sustainable solution that may have you walking normally days after a procedure. Our practitioners use this to do more than just shave a bump, correcting the source of the problem to prevent reoccurrence. The diagram below details the practice of simply shaving away the problem, rather than correcting the condition:
How Can Lapiplasty Alleviate My Pain?
Unlike conventional bunion surgeries, Lapiplasty uses specially-designed instrumentation to return the unstable joint back to its original anatomic position. This naturally straightens your toes and removes the bump causing your pain. Its titanium plating technology corrects the unstable foundation of the joint and therefore the cause of your condition and pain. Our experts at FASI use this technique to increase our patient's quality of life and alleviate their pain.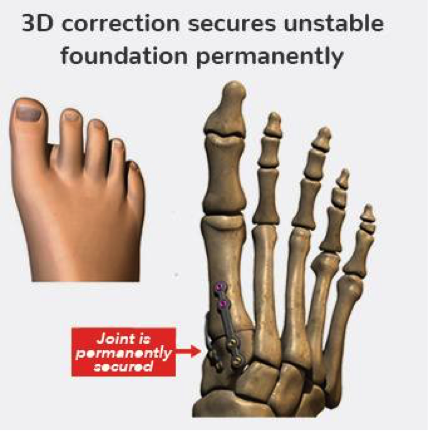 These x-ray images below display the healing effect of a Lapiplasty procedure on the affected joint. Lapiplasty technology uses two low-profile anatomically-shaped plates to permanently secure the unstable foundation causing your bunion. This approach to treatment allows patients to get back on their feet faster, as soon as 6 to 8 weeks earlier than conventional treatments.
How Can FASI Help?
If you're suffering from constant and debilitating pain caused by a bunion, our team of experts provides you with state-of-the-art technology and unparalleled patient care to alleviate your pain at its source. To learn more about Lapiplasty, contact our experts in Algonquin, Huntley, Carpentersville, IL, and surrounding areas to learn more.