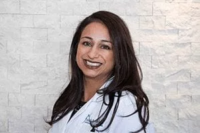 Dr. Zehra Hyderi attended the Ohio College of Podiatric Medicine in Cleveland, where she earned her medical degree. She continued her education and medical and surgical residencies at Hines VA Hospital, Loyola University Medical Center, and College Hospital Costa Mesa. She also gained a podiatric preceptorship at the Dr. Cortese Foot & Ankle Clinic in Normal, IL.
Dr. Hyderi is also a member of the American Podiatric Medical Association, the Illinois Podiatric Medical Association, as well as the American College of Foot and Ankle Surgeons.
When Dr. Zehra Hyderi is not caring for her patients, she is a sought after national speaker and is active in performing research, aiding in publications, and training other physicians and podiatrists throughout the country in the use of advanced treatments and techniques for effective Foot and Ankle care.
To schedule an appointment with Dr. Hyderi, please contact us!