Best Shoes For Overpronation
Are your shoes wearing out on the inside edge? Are you starting to feel pain? You might be overpronating as you stand, walk, or run which can lead to other injuries. Your shoes can make a big difference, so make sure you have the best shoes for overpronation and that your overpronation shoes meet your individual needs.
If you want to understand overpronation, you will need to first understand normal pronation. Pronation refers to the natural movement of the foot. When you stand still, it refers to how much your foot rolls inwards. If your foot rolls inwards too much, your foot is overpronated. It is important to get overpronation under control as it can cause injury or develop into other conditions. Luckily there are ways to help with overpronation. Shoes with proper support are especially important. Your lifestyle and the shape of your foot will determine which overpronation shoes will work best for you.
Overpronation Shoes
There are many types of overpronation shoes. In this article, we will focus on running shoes for overpronation and everyday shoes for overpronation.  Before you decide what type of overpronation shoe you need, you need to know if you need overpronation shoes in the first place.
Do You Need Overpronation Shoes?
If you struggle with overpronation, the soles of your shoes will wear out unevenly. The inside edge of your shoes' soles will likely be more run-down than the rest of the sole
Your arch can also give you some insight. If there is no defined arch between the foot and the floor, you likely overpronate. Though the wear of your shoes and the arch of your feet can indicate overpronation, the best way to confirm is with a professional like the experts at the Foot and Ankle Specialists of Illinois.
Once you have confirmed you overpronate, you will need to take the time to fix your overpronation. A podiatrist will be able to create a specialized treatment plan following your lifestyle and feet. The right shoes will be an important aspect of helping your overpronation.  
What Makes Overpronation Shoes Different?
How do overpronation shoes differ from regular shoes? While they look similar to regular shoes, overpronation shoes have extra support on the inside part of the shoe. This prevents the foot from rolling inward, preventing overpronation.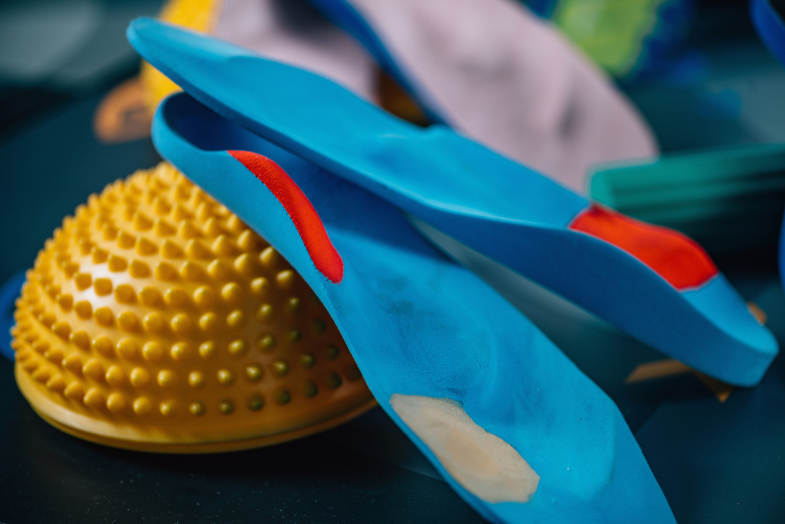 A firm heel counter, the back piece of the shoe, can increase stability and lightweight soles can soften the impact of steps. This will help alleviate joint stress and make the motion of walking or running easier and more anatomically neutral.
Arch support is also important. Many people who struggle with overpronation also have flat feet, flexible feet, or weak arches.  An orthotic insole can be helpful. A custom orthotic insert made to fit your anatomy can give your foot the support straight out of the box shoes can not give you on their own.
Running Shoes for Overpronation
If you are a runner, finding supportive shoes is imperative. If you overpronate while running, you are more likely to become injured. Running shoes for overpronation are not one size fits all. Different shoes have different features and different prices. The list below will give you a starting point, but you need to research, try on different shoes, and discuss with your podiatrist to find which running shoe for overpronation will suit your feet best.
Brooks Adrenaline GTS 21
If you are a long-distance runner, the Brooks Adrenaline GTS 21 running shoe is a great option. This running shoe for overpronation is sturdy and secure enough to keep your foot properly aligned and soft enough to keep running low impact. The shoe is a bit heavier than other running shoes for overpronation, so if you are looking for the best shoes for overpronation made for speed you will want to look elsewhere.
Asics Gel-DS Trainer 26
There are not many running shoes for overpronation that are made for speed. The Asics Gel-Ds Trainer 26 features a medial post to help overpronation. It has a firm and stable cushioning and a sole that grips the ground to help with speed. This is one of the best shoes for overpronation if you like sprinting.
Saucony Hurricane 23
This shoe has the security needed in running shoes for overpronation while also not compromising the responsiveness and bounciness of a normal running shoe. It fits snugly for the most secure running experience. This is one of the best shoes for overpronation if you are a runner looking for a shoe that does not sacrifice performance for support.
New Balance Fresh Foam Vongo V5
This overpronation shoe is soft and comfortable. It features a conventionally designed medial post and a soft midsole, making this shoe perfect for long runs. If you are looking for an overpronation shoe for long-distance running, the New Balance Fresh Foam Vngo V5 is one of the best shoes for overpronation.
Everyday Shoes for Overpronation
Not everyone struggling with overpronation is a runner. As such, they do not need shoes made for running miles or sprinting. They need everyday shoes for overpronation, or overpronation insoles that will get them through their shift at work or their everyday tasks. Shoes made for runners tend to be very expensive; most people do not want to spend a fortune on everyday shoes for overpronation. Below are some everyday shoes for overpronation.
Sketchers Arch Fit Comfy Wave
This women's shoe is lightweight and machine washable in addition to helping overpronation. They are supportive, fashionable, and less expensive than other overpronation shoes. It has a lower ankle cuff. This allows for extra movement and will make walking long distances easier, but if you need extra ankle support, you should consider a different shoe. This is one of the best shoes for overpronation for women if you are looking for a good shoe on a budget.
Reebok Ridgerider 5.0 Cross Trainer
This men's shoe is lightweight, comfortable, and good for uneven surfaces while remaining affordable. This overpronation shoe has good arch support and fits snuggly. If you need extra heel support, you might want to consider a different shoe as this overpronation shoe lacks the heel support seen on higher-end overpronation shoes. This is one of the best shoes for overpronation if you are looking for a good shoe on a budget.
See a Podiatrist
If you are having problems with overpronation, a podiatrist can help you find the right type of shoe. At the Foot and Ankle Specialists of Illinois (FASI) you can meet with an expert who will evaluate your feet for overpronation so it can be treated before it causes something worse.