Foot and Ankle Specialist in Algonquin
Foot and ankle pain can make walking, standing, and running more complex, so if you are experiencing any of these symptoms, it is wise to see a foot and ankle specialist in Algonquin as soon as possible for foot pain relief. The Foot and Ankle Specialists of Illinois specialize in comprehensive foot care in Algonquin. Our expert podiatrists work closely with patients to ensure their feet remain healthy and functionally sound.
Comprehensive Foot and Ankle Care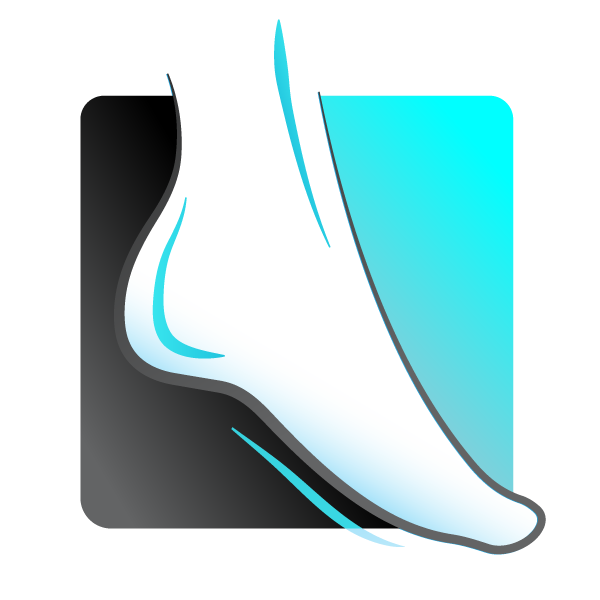 When you're looking for the best podiatrist in Algonquin, come check out the Foot and Ankle Specialists of Illinois. At the Foot and Ankle Specialists of Illinois in Algonquin, you'll find a comprehensive array of services, from treatments for foot pain, bunions, and sprains, to diabetic care management, reconstructive surgery, and wound care services to address all of your foot pain relief needs. 
Our physicians are committed to helping their patients heal using noninvasive means whenever possible and only offering surgery if necessary. You deserve nothing less when looking for the best podiatrist in Algonquin. When looking for a board-certified foot and ankle specialist in Algonquin, you deserve a team that specializes in treating standard foot and ankle issues, such as plantar fasciitis and hammertoes, as well as more severe conditions like arthritis and neuromas. Additionally, we provide conservative treatments like custom orthotics and activity modification and offer surgery services for more severe injuries to correct your pain quickly and safely. Together with you, we strive to find the ideal therapy option to enable you to live a full and active lifestyle.
We conduct diagnostic exams and treat various foot and ankle conditions and injuries, such as sprains, bunions, and arthritis. Furthermore, reconstructive surgery to correct foot fractures is available as an added service.
Skin and Nail Problems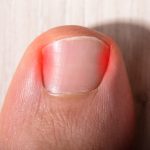 Skin and nail problems can cause pain and annoyance. Conditions like corns, calluses, athlete's foot, plantar warts, and toenail fungus are easily treatable and can worsen if left untreated. As your foot and ankle specialist in Algonquin, we can treat these conditions with Swift Microwave Therapy, surgery, and other non-invasive methods.

Heel and Arch Pain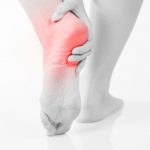 Heel and arch pain can significantly alter your mobility if you don't receive the proper treatment. Treatment can be as simple as finding the proper footwear. As your Algonquin podiatrists, we can treat conditions like flat feet, fallen arches, high arches, and plantar fasciitis with orthotics fittings, surgery, and more.

Toe Deformity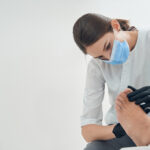 Over time, it's possible and common to develop toe deformities due to genetic predisposition, lifestyle, and footwear choice. These conditions include bunions and hammertoes and can cause significant pain and discomfort if left untreated. As your foot and ankle specialist in Algonquin, we can treat them with options such as surgery and lapiplasty.

Nerve and Neuropathy Issues
Nerve and neuropathy issues can be harrowing or even cause numbness in your feet. A podiatrist is critical to managing these conditions to maintain mobility. Treatments for nerve and neuropathy-related conditions at Foot and Ankle Specialists of Illinois include orthotics fittings, arch supports, and cortisone injections. These conditions are severe, so seeking podiatric care is crucial in finding effective treatment and management plans.
Where to Find Relief
Seeing one of our foot and ankle specialists in Algonquin can allow us to diagnose your condition and develop a treatment plan for you. While there are many over-the-counter options to manage your foot and ankle pain, such as sole inserts or anti-inflammatory medication, these don't treat any underlying causes that can persist and worsen. Finding ankle and foot pain relief at a podiatrist allows you to receive individualized and effective care for your condition.
Best Podiatrist in Algonquin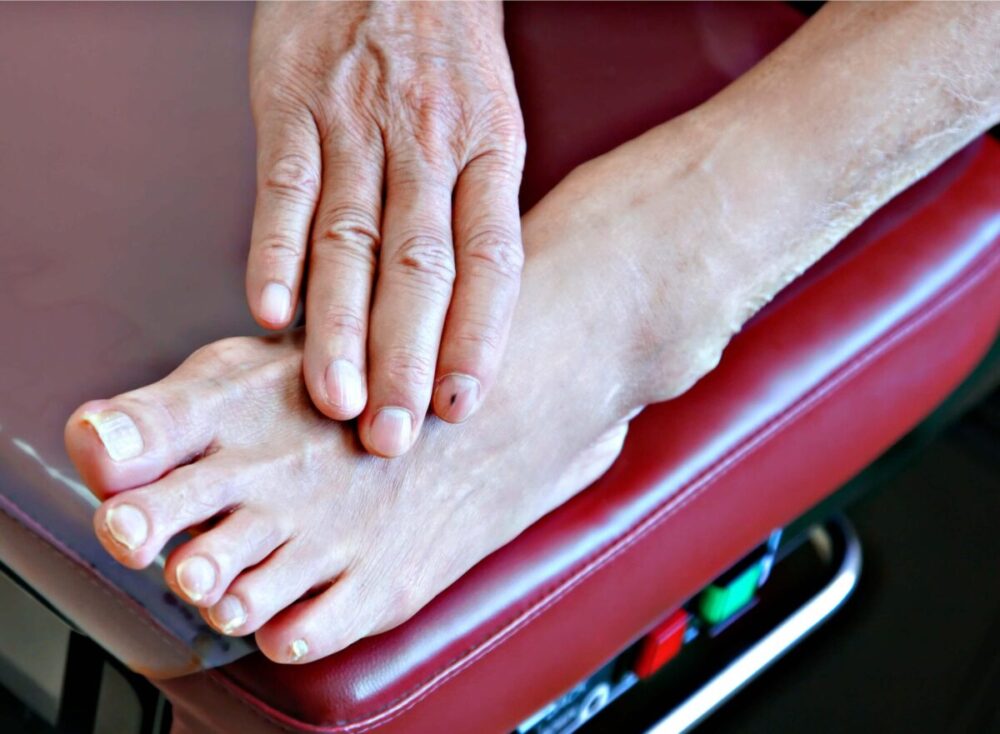 The best podiatrists in Algonquin have some of the finest podiatric medical centers in the region for foot care. We offer everything from routine checkups and treatment for foot and ankle disorders to minimally invasive surgeries and cutting-edge diabetic therapies. 
The best foot and ankle specialists in Algonquin are here to offer you all of these services, along with insurance questions, paperwork assistance, and patient advocacy–contact our office today so you can experience unparalleled foot care from one of our highly qualified providers. Let our staff assist with medical paperwork so you can focus on living fully. Our Algonquin podiatrists will guide you through any required processes so you can return to enjoying life to its fullest.
Dr. Zehra Hyderi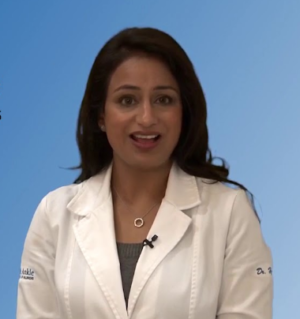 As one of the best podiatrists in Elgin, Dr. Zehra Hyderi attended the Ohio College of Podiatric Medicine in Cleveland, where she earned her medical degree. She furthered her education and medical and surgical residencies at Hines VA Hospital, Loyola University Medical Center, and College Hospital Costa Mesa. She also received a podiatric preceptorship at the Dr. Cortese Foot & Ankle Clinic in Normal, IL.
Dr. Hyderi is a member of the American Podiatric Medical Association, the Illinois Podiatric Medical Association, and the American College of Foot and Ankle Surgeons. When Dr. Zehra Hyderi is not assisting her patients, she is actively performing research, aiding in publication developments, and training other podiatrists and physicians throughout the country to use advanced techniques and treatments for effective ankle and foot care.
Dr. Stephanie Gray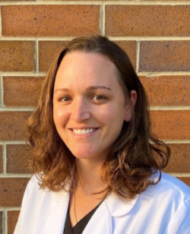 Dr. Gray is ready to treat patients from every walk of life.  She pursues a personal connection with patients to ensure satisfaction and quality in her podiatric care. Dr. Gray sees beyond traditional interventions by incorporating nutrition, physical fitness, and total wellness into her individualized treatments.
Dr. Gray obtained her medical degree from Dr. William M. Scholl College of Podiatric Medicine. As chief resident, she completed a comprehensive three-year surgical reconstructive ankle and foot residency at Ascension St. John Hospital. Born and raised in the Upper Peninsula of Michigan, Dr. Stephanie Gray attended Northern Michigan University for her undergraduate education and was also a competitive college swimmer.
Dr. Gray is an expert surgeon trained in rear foot, mid-foot, and total ankle replacement surgeries. She is proficient in ankle and foot reconstruction and has received comprehensive training in treating severe hammertoes, bunions, and other forefoot deformities.  
Foot Pain Relief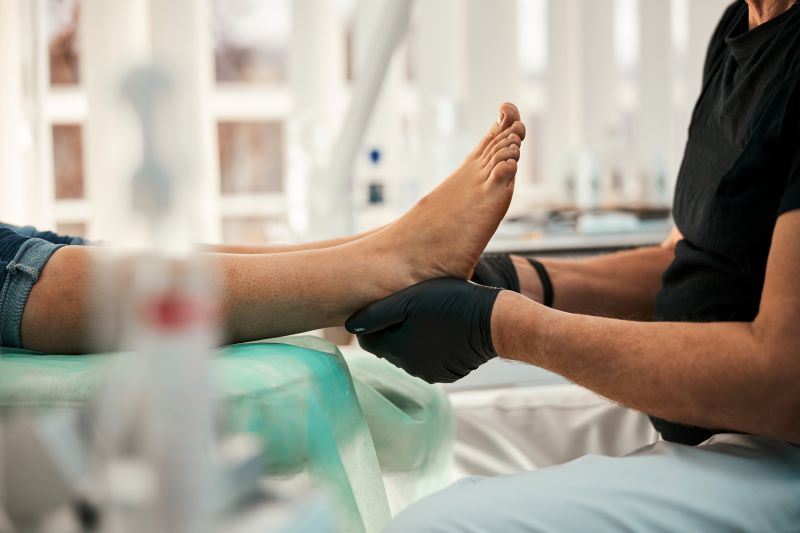 If you're not prepared to engage with a foot and ankle specialist in Algonquin, several at-home remedies may also help ease foot pain and make your feet feel better. Nonsteroidal anti-inflammatory drugs, including aspirin, ibuprofen, and naproxen sodium, can relieve pain and manage long-term foot inflammation. If these do not reduce or even worsen your discomfort, consulting with an Algonquin podiatrist might be necessary. 
Wear shoes that provide support and comfort, such as those with low to moderate heels, thick soles, good arch support, and extra cushioning–this can help ease pain associated with bunion conditions and heel spurs bone abnormalities found at the base of your heels. Stretches targeted toward the Achilles tendon, plantar fascia, and calf muscles can also reduce swelling and pain in these areas. 
If your foot pain interferes with your daily activities or negatively affects your work and social life, seeking an expert evaluation is essential. A podiatrist can evaluate your condition, identify its source, and suggest treatment solutions. Switching up your method of transportation can also help relieve foot pain.
Contact the Foot and Ankle Specialists of Illinois Today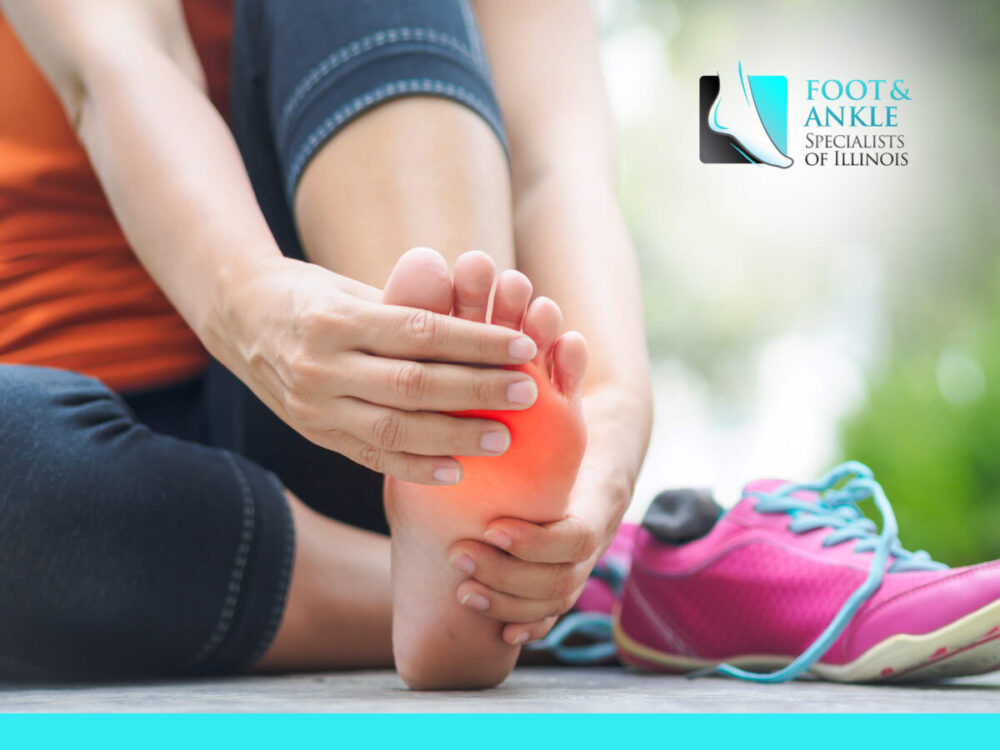 Algonquin podiatrists can assist in keeping your feet healthy, happy, and pain-free. We perform arthroscopic procedures to repair or replace damaged ligaments and tendons in your foot or ankle and insert custom orthotics designed to enhance gait patterns and relieve strain on joints and muscles. Furthermore, we offer treatments for injuries to the feet and ankles. 
The feet and ankles are two of the most complex structures in your body, supporting all of its weight through an intricate system of bones, tendons, ligaments, and muscle attachments. When looking for a foot and ankle specialist in Algonquin, you deserve the best. The Foot and Ankle Specialists of Illinois offer you access to an experienced team of healthcare professionals dedicated to providing you with optimal treatment, no matter your current state of health. Our team will thoroughly explain the intricacies of your condition and offer tailored care recommendations, from non-invasive options to more invasive procedures throughout every stage of healing.
If you are experiencing the signs and symptoms of foot or ankle injuries, contact their office as soon as possible to make an appointment and receive treatment. Your feet and ankles are integral parts of the human body, so having access to high-quality foot and ankle care providers is vital for overall wellness.