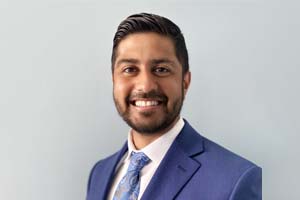 Dr. Nehal Sheth is eager to join the practice and treat patients from all walks of life. He seeks a personal connection with those he treats, and strives to ensure quality and satisfaction in the podiatric care he provides. He advocates for a conservative treatment approach when possible. Dr. Sheth looks beyond traditional interventions by incorporating physical fitness, nutrition, and wellness into his individualized treatment plans.
Born and raised in Chicago's western suburbs, Dr. Sheth was active in baseball, basketball, and cross-country. He attained his undergraduate degree at Loyola University Chicago, followed by his Doctorate of Podiatric Medicine at Dr. William Scholl College of Podiatric Medicine in Illinois. He completed a three-year intensive surgical residency at Mount Sinai Hospital and Lovell Federal Health Care Center, serving patients in a level 1 trauma setting as well as veterans and their families. In his final year, he was elected chief resident. When not working, you can find Dr. Sheth running along Lake Michigan, at a Chicago sports event, or walking his two rescued greyhounds, Izzy and Logan.
Dr. Sheth's special interests include:
Sports Injuries
Tendon/ligament injuries
Stem Cells/Regenerative Medicine
Wound Care
Flat Feet
Bunions
Hammertoes
Diabetic preventative foot care
Foot and ankle arthroscopy
Fractures
Neuromas
Fungal infections of Skin and nails
Conservative Care For Foot and Ankle
To schedule an appointment with Dr. Sheth, please contact us!